Following the successful online educational programme on Current challenges for optimal individualised management of LUTS/BPE patients, the European School of Urology in collaboration with the EAU Section of Female and Functional Urology (ESFFU) and the EAU Guidelines Male LUTS, has developed a second part of the curriculum called the Changing the paradigm of personalized BPE/LUTS medical treatment: where are we?
This online curriculum is a mix of live webinars, case discussions, Q&A and discussions by key opinion leaders in Male LUTS, divided into different modules. Attending the live webinar is free and participants joining live will receive accreditation points.
Upcoming webinars
Webinar 3: Challenges and opportunities to integrate patients preferences into surgical and pharmacological BPH management
24 January 2023 – 18.30-19.30 CET
Expert: A. Budia Alba, Valencia (ES), Schwartzmann, Barcelona (ES).
Topics:
a) How to integrate patients preferences to a personalized management approach?
b) How personalized treatment looks like in 5 years? The impact of new methods for evidence synthesis and technology.
---
On-demand content
1. Recording of Webinar 1
This first webinar on personalized medical treatment for male LUTS critically reviews the contribution of EAU Guidelines in the field, discuss what our patients want from medical treatment and set the requirements for the optimization of personalized medicine.
Faculty: S. Gravas (CY), S. Malde (GB), J-N. Cornu(FR)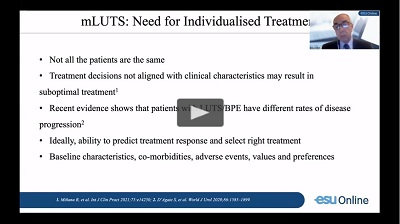 Watch this webinar with:
2. Recording of Webinar 2
The second webinar is this series reviews the currently most robust treatment response predictors including newer developments such as bladder wall thickness or intravesical prostatic protrusion. The basis for an individualised treatment is a thorough diagnostic-work up and the recent developments in this respect are discussed, just as key evidence for an individualised pharmacological BPH/LUTS treatment.
Faculty: Prof. Dr. S. Madersbacher (AT), Dr. P. Capogrosso (IT), Prof. M. Oelke (DE), Assoc. Prof. M. Rieken (CH)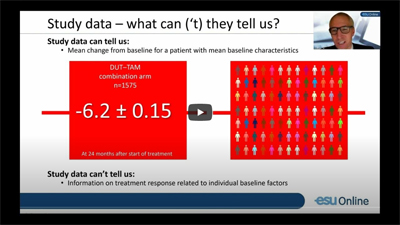 Watch this webinar with:
3. Accredited e-course
You can access the accredited e-course for this webinar here.
For the on-demand content of the first part, click here.
Module 1 to module 3 have been funded by GlaxoSmithKline. The educational programme of this online activity has been a collaboration with GlaxoSmithKline, but independently developed and approved by the European School of Urology, the EAU Section of Female and Functional Urology (ESFFU) and the EAU Guidelines.
NX-GBL-URU-WCNT-220001, date of preparation: September 2022