Following the successful online educational programme on Current challenges for optimal individualised management of LUTS/BPE patients, the European School of Urology in collaboration with the EAU Section of Female and Functional Urology (ESFFU) and the EAU Guidelines Male LUTS, has developed a second part of the curriculum called the Changing the paradigm of personalized BPE/LUTS medical treatment: where are we?
This online curriculum is a mix of live webinars, case discussions, Q&A and discussions by key opinion leaders in Male LUTS, divided into different modules. Attending the live webinar is free and participants joining live will receive accreditation points.
---
Upcoming webinars
Webinar 2: 7 December 2022 – 18.30-19.30 CET
Expert: M. Oelke, Gronau (DE)
Topics:
a) Research questions: what are the more robust treatment response predictors? What is missing to support others used at clinical practice?
b) Recent evidences to consider for the evolution of individualized treatment: key highlights
Webinar 3: 23 January 2023 – 18.30-19.30 CET
Expert: A. Budía Alba, Valencia (ES)
Topics:
a) How to integrate patients preferences to a personalized management approach?
b) How personalized treatment looks like in 5 years? The impact of new methods for evidence synthesis and technology.
---
On-demand
Webinar 1: 18 October 2022 – 18.30-19.30 CEST
Men with Lower Urinary Tract Symptoms (LUTS) do not represent a homogeneous population. In our practice we face patients with different needs and characteristics including age, co-morbidities, baseline values and sexual status. Personalized Medicine is an approach to medical care that tailors therapy to the individual characteristics of each patient.
This first webinar on personalized medical treatment for male LUTS will critically review the contribution of EAU Guidelines in the field, discuss what our patients want from medical treatment and set the requirements for the optimization of personalized medicine.
Faculty: S. Gravas, Nicosia (CY), S. Malde, London (GB), J-N. Cornu, Rouen (FR)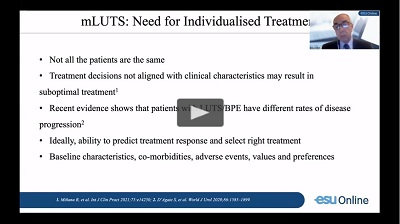 You can access the accredited e-course for this webinar here.
For the on-demand content of the first part, click here.
Module 1 to module 3 have been funded by GlaxoSmithKline. The educational programme of this online activity has been a collaboration with GlaxoSmithKline, but independently developed and approved by the European School of Urology, the EAU Section of Female and Functional Urology (ESFFU) and the EAU Guidelines.
NX-GBL-URU-WCNT-220001, date of preparation: September 2022